October's Galveston Bay Report Card Cover Story spotlights a local sustainable business whose actions benefit the community as well as the Galveston Bay watershed.
"That land is a community is the basic concept of ecology… That land yields a cultural harvest is a fact long known, but latterly often forgotten." ~ Aldo Leopold
When Kristal and James White bought a parcel of land at 1001 FM 646 N in Dickinson, it was ostensibly to become Penny's Beer Garden: an urban farm, market, and taproom. But a greater vision had germinated long before, and the land was simply a place for it to grow.
Penny's Beer Garden is the culmination of some of Kristal's great passions in life: conservation, community, and beer.
She began with a job as a substitute teacher and tutor. She then embarked on her dream career as a zookeeper, where she could teach thousands of guests about wildlife conservation and sustainable practices. In her spare time, she organized conservation fundraisers with Galveston's chapter of the American Association of Zoo Keepers (GCAAZK). She also began volunteering at Seeding Galveston, a non-profit urban farm project that provides affordable, fresh produce and evangelizes an island-wide "locavore" culture.
All these experiences finally coalesced into one simple, revelatory idea. An image came into sharp focus: a garden, to fulfill a community's need for locally-grown fruits and vegetables. A taproom, where neighbors could gather to socialize and sample local wines and beers. A weekly market, to highlight area farmers and artisans. A spacious yard and playground that the whole family could enjoy–dogs included!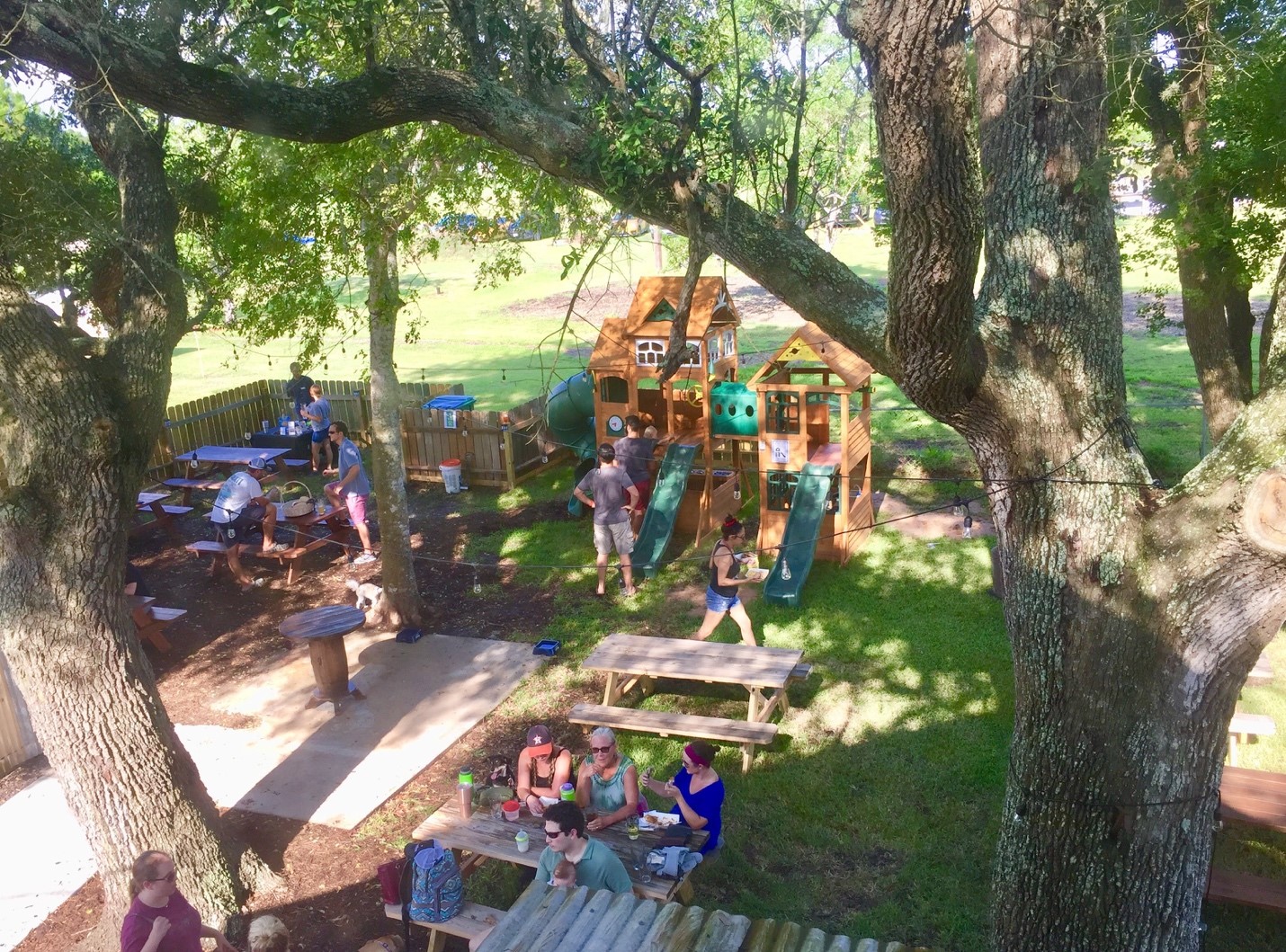 The dream: the backyard at Penny's Beer Garden
In November 2018, Kristal took the plunge: she left the zookeeping field after 10 years at the Houston Zoo and Moody Gardens, trading one dream for another. In March 2019, Kristal and James closed on the property and introduced the world to Penny, their precious older basset hound-blue heeler mix. In the next few months, a flurry of activity: a Kickstarter launched and fulfilled, a chicken coop and greenhouse constructed, 17 garden beds built and planted, and an early 20th-century home outfitted to become a modern-day, fully functional taproom.
On August 13th, a welcome dinner for supportive family, friends, and neighbors.
On August 16th, open for business.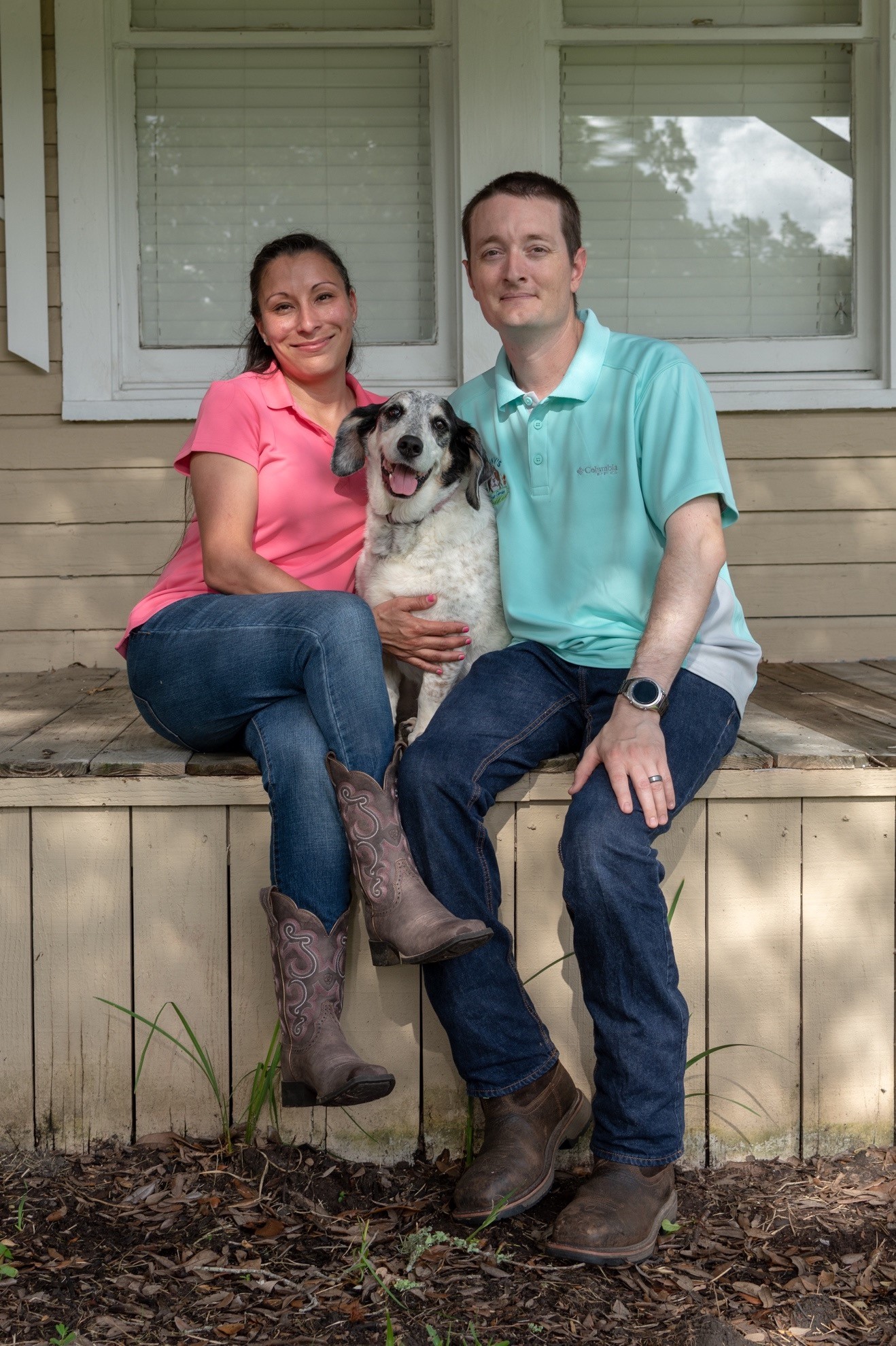 Kristal, Penny, and James on the front porch of Penny's Beer Garden
Now, as Penny's Beer Garden navigates the trying early days of small businesshood, the bountiful cultural harvest is already clear.
Eating, drinking, and shopping local is fundamental to their mission. The taproom boasts a rotating menu strictly from local craft breweries, wineries, and cideries, including Saloon Door Brewing, Haak Vineyards, and DUO Winery & Cider Co. They even have Good Boy Dog Beer, a Houston husband-and-wife venture that brews non-alcoholic beverages for man's best friend. The weekly Saturday market features local small businesses that offer everything from hand-made cookies to ceramics to soap–and of course, fresh produce.
Community is at Penny's core. This fall, they'll host a number of events to benefit the Dickinson community, including family-friendly crafting classes; free monthly yoga classes; Booktober, a book drive benefiting Today's Harbor for Children and Court Appointed Special Advocates for Children; a scouting badge group; a pumpkin patch for fall photo-ops; and a pet adoption drive for Bayou Animal Services.
Environmental education is essential. They walk the walk, installing a mason bee colony and bat houses to promote natural pollination and pest control, and reducing plastic use whenever possible. And they'll talk the talk: their October 19th Howl-O-Ween event will not only feature fun and games for the whole family, but also an educational bat chat by a conservation biologist. In November, they'll host an Otterly Awesome Autumn Festival to support the giant otter conservation efforts of Save the Giants. In the future, they'll host Galveston Bay Foundation rain barrel workshops (they have two barrels of their own on property). They hope to be an outlet for environmental and wildlife advocacy for years to come.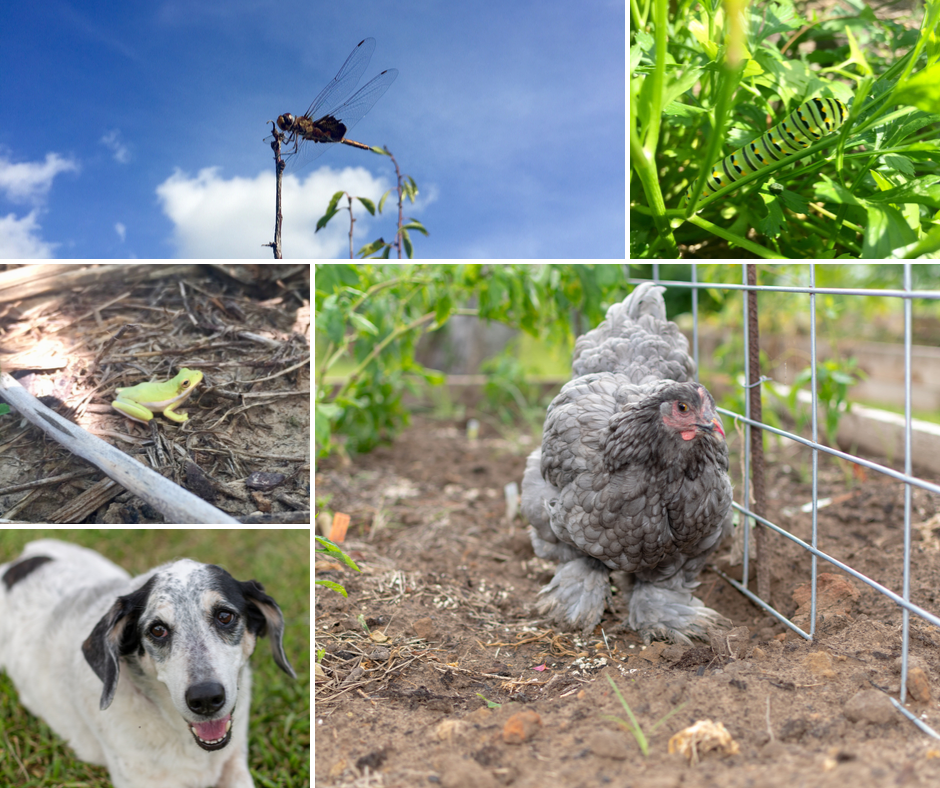 Nature at Penny's Beer Garden (clockwise from top left: dragonfly, black swallowtail caterpillar, blue cochin hen, Penny the dog, green tree frog)
"Working with animals was great, but I really loved the community service aspect of it," Kristal says. "I always thought that if I could get one person a day to realize how amazing animals are and how important they are, why we should appreciate and protect them, then I've done myself and my community some good. It's the same here. If I can support a brewery by selling their beer, or help a local farmer by letting them come out and sell their tomatoes, or bring an organization out to talk about why bats are important, and it makes a little bit of difference in the community, then I'm doing my part."
For more information, visit www.pennysbeergarden.com. Taproom open Fri 3 – 9 PM, Sat 11 AM – 9 PM, & Sun 12 – 8 PM. Markets on Saturdays, 9 AM – 1 PM. Vendors contact pennysbeergarden@gmail.com to apply.