The 2019 Galveston Day Report Card is here! As you explore the grades, also explore the ways that you can continue to positively impact the Bay. There is not a "What You Can Do" that is too small! If everyone does a little bit each day, we can see improvements over time that lead to a straight "A" Bay.
This summer, we were all inspired by Asher, a wonderful kid that took action on his own. With the help of T'Noya Thompson, Advocacy Programs Manager at Galveston Bay Foundation, and his supportive family, Asher celebrated his 9th birthday with a "litter and trash" cleanup party! Not only did his party guests clean up a park that is connect to Armand Bayou, but his guests donated just enough money to adopt a dolphin in lieu of gifts. Asher is a true Report Card Champion and demonstrates to us all that we can all be leaders for the Bay.
Here is what Asher's Mom and Asher had to say about what inspired this unique birthday party idea!
How did Asher approach you with this idea?
Asher's Mom: We decided years ago starting with our older child, the kids have enough toys. Instead of having people waste money on more plastic toys that may or may not get played with, we asked the kids what cause was important to them and did donations instead of gifts. We've done donations to animal shelters several times, as well as a nursing home, and backpacks for kids entering foster care. However, we usually do a themed party where we play games, or rent a bouncy house, or go to the zoo, etc. for the actual party. This year when I asked Asher what cause he wanted to donate to, he said, "save the ocean" and when I asked him what "theme" he wanted, he said "save the ocean and clean up pollution". He said he really wanted to have everyone come and help clean up the beach for his party, even when I offered to host his party at a trampoline park instead, because I had no idea how to organize a birthday party like this or if anyone would even come. I'm glad he was so insistent because it was a lot of fun.
Why did you reach out to Galveston Bay Foundation?
Asher's Mom: To be honest, I had no idea where to begin, so I just Googled conservation organizations in the area and really lucked out finding someone so receptive.
How did friends/parents respond to the invite?
Asher's Mom: A few people said it was a neat idea and a few others were more like "Umm, OK". But afterwards, so many parents came up to us and told us that it was a really neat and impactful party and that not only did the kids learn a lot, but the parents did too! They also said that it was a really cool concept and their kids really enjoyed it.
Why is the bay important to you?
Asher: The bay is important to me because I like the sea creatures and I don't want any of them or any species to die or become extinct or become threatened. I want them to live in a clean environment and I also want them to have enough food to survive, because they need prey and if they don't have prey they can't live, so I want their prey not to die either.
What was your favorite part about this birthday party?
Asher: My favorite part was the part where we got to pick up the trash at the end!
Were you surprised by the amount of trash collected by you and your friends?
Asher: No, because a lot of people throw their trash on the ground and the wind can scatter it all over and then it goes into the water and goes down into the Bay, and I know the Bay has a lot of trash so I expected a lot of trash at the park. But I was surprised because the park looks clean, but then all the little plastic trash was there, and we walked right over it and didn't know it was there at first. I was also surprised when my friends got SO MUCH TRASH that was trapped in the weeds and how big it was.
How much money did you raise (to adopt a dolphin)?
Asher: I raised $160!
What are the ways that you feel you can continue to help the Bay?
 Asher: By picking up trash especially at the beach and if you have trash, throw it in the trash can and if you have plastic, throw it in recycling and if you have stuff that you can recycle, then recycle it. I can also help by not using plastic bags. I can use paper bags or my own bags.
As a parent, would you recommend an event like this to others?
Asher's Mom: I would absolutely recommend something like this to other families. I think the kids are at a perfect age for a party like this because they are SO excited to learn and help and contribute. When they're little, kids naturally want to feel big enough to make a difference and naturally want to help and sadly that seems to diminish as they grow. I hope that events like this will only foster and encourage that mindset as they grow.
---
Inspired by this incredible family? Want to help Galveston Bay get to a straight "A"?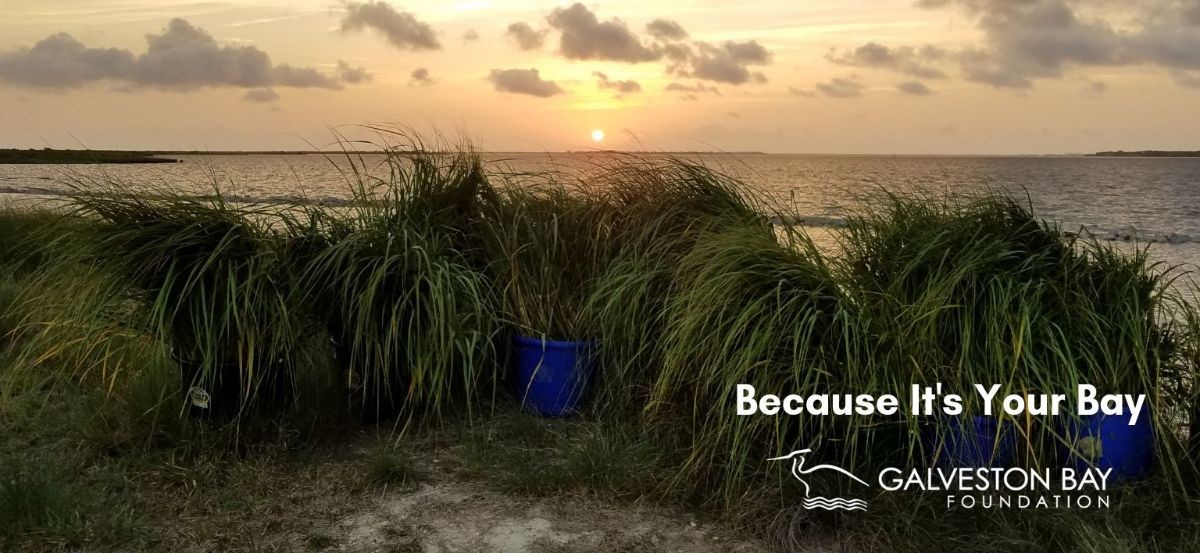 Registration now open for Adopt A Beach Cleanup

Join hundreds of volunteers to collect trash along the shoreline at Morgan's Point on Saturday, September 21 from 9am to 1pm. Enjoy lunch and a chance to win door prizes after the cleanup! Register here.

Thanks to Texas General Land Office, SeaWorld & Busch Gardens Conservation Fund, Port Houston and Ocean Conservancy Clean Swell for their support of this project. 

Volunteer at Bike Around the Bay

Work behind the scenes and among the action at our largest annual fundraising event, Bike Around the Bay, taking place Saturday, October 12 and Sunday, October 13 2019. There are a variety of opportunities to help on different dates and at different locations beginning late September. Click here to see more details and to sign up!

Interested in riding? Visit our Bike Around the Bay website to learn how!
Water Monitoring Team

A special team of water monitoring volunteers are trained to sample and analyze Galveston Bay water for bacteria. Training takes place at various times and locations throughout the year. Want to become a Galveston Bay Foundation Water Monitoring Volunteer? Learn how here! 

A healthy Galveston Bay starts with YOU.
| | |
| --- | --- |
| When you become a Galveston Bay Foundation member, you help your community by protecting the state's largest and most productive bay. Your gift of any amount helps support our work! Memberships start with a donation of $35.  | Galveston Bay Foundation's 3,000+ current members represent a true cross-section of Bay interests. Support from members is vital to fulfill our mission to preserve, protect, and enhance Galveston Bay. Memberships include a one-year subscription to our print newsletter. |