This year has been very challenging for many of us. It has tested our resilience and forced us to adapt to constant changes and uncertainties. Our bay and its ecosystem must also adapt constantly to change. Our actions affect the health of the bay and how resilient it is when dealing with change. Galveston Bay and the surrounding watersheds span across 24,000 square miles and include half of Texas' population! Whenever it rains, anything on the ground in the greater watershed is likely to make its way down to the bay, including litter, pet waste, engine oil, and excess nutrients from lawn run-off. Everyone's backyard – whether that is an actual yard, driveway, apartment sidewalk, the drains on their street, or a nearby park – is connected to the bay. Galveston Bay is our backyard bay!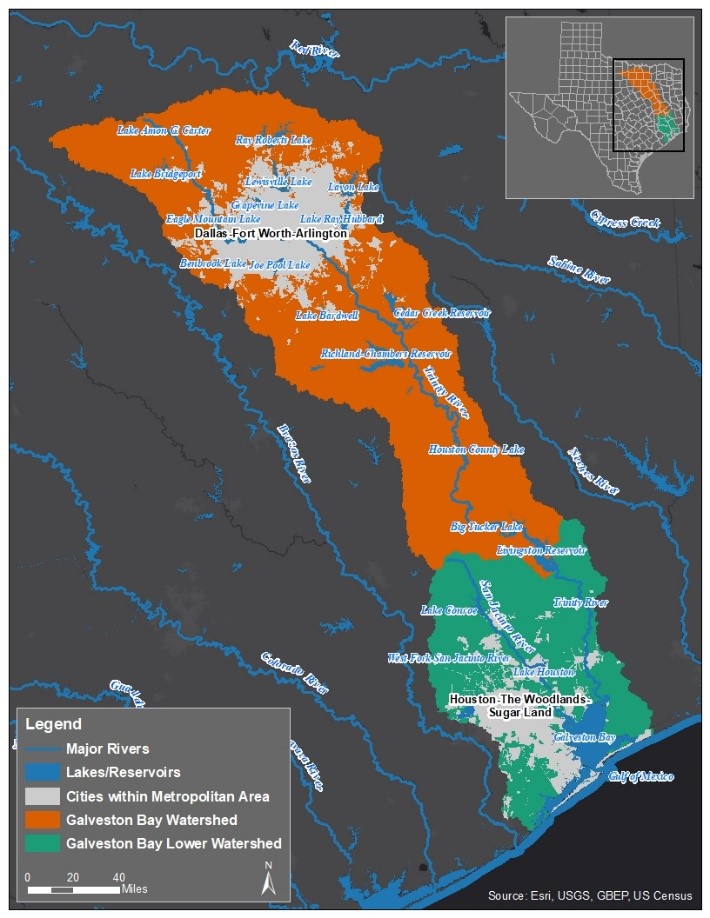 The Galveston Bay Report Card assesses the health of the bay and its ecosystem every year. The 6 categories and 22 indicators were carefully selected based on what you, the community, wanted to know about the bay. The categories and indicators are graded like a school report card, with "A" being the best possible grade and "F" being the lowest possible grade. A grade of "I" means we are working on gathering more data before determining a grade. Houston Advanced Research Center gathers and analyzes the data and Galveston Bay Foundation shares it with the community through outreach while both use the information to guide their conservation efforts. Let's talk about what we saw in the 2020 Galveston Bay Report Card, which reflects data collected in 2019, and where we go from here.
The Human Health Risks category included a decrease in the recreation safety grade for the Bay from A to B due to higher bacteria levels at two beach sites, Sylvan Beach and Texas City Dike.
The Habitat category provided some positive news. This year, the wetland data has been updated and new information shows more potential oyster reef habitat in the bay.
The Water Quality category improved from a B to an A due to the Bay receiving an A for phosphorus.
The Coastal Change category saw no grade changes and maintained a C overall.
The Wildlife category showed an increase in the shellfish grade thanks to blue crab populations stabilizing and improvements in white shrimp populations.
The Pollution Events and Sources grade decreased due to the Kirby Inland Marine spill on May 10, 2019. This one, large oil spill of almost 600,000 gallons in the Bay brought the oil spill volume grade down from an A to an F. Galveston Bay Foundation collected water samples to monitor this incident. They are also collaborating with Houston Advanced Research Center and other organizations to gather full data on litter and trash.
This is our 6th annual Report Card and this important hub of information continues to keep us all informed. By consistently gathering this research every year, organizations, government, and people in the community can see where we've been and help predict where we're going. So, what needs to be done to help the bay stay resilient over time? Part of that is up to you, and "What You Can Do". The What You Can Do tool is how we help you help the bay, in ways that fit your interests and the amount of time you have. This year, we've added more links and resources to learn about the bay and help safely from the comfort of home.
The new grades and What You Can Do tool updates aren't the only new additions this year!
We also have a new section of this website for this year's Report Card community engagement focus, "Mission: Pollution Prevention!". This mission aims to bring everyone together as a community with a common goal of protecting the bay from increasing pollution. The Mission section will offer resources on how to tackle pollution, including tips and tricks to reduce trash, prevent litter and recycle properly. It will also keep you up to date with how to get involved in community efforts, from becoming a Marine Debris Monitor with Galveston Bay Foundation or contributing to Nurdle Patrol, to joining local sustainability or clean-up events. So explore this website and find a few ways you can join our Mission: Pollution Prevention to protect your backyard bay! Share photos of your efforts on social media with #galvbaygrade and #missionpollutionprevention.