Keeping the water of Galveston Bay clean is the most important thing we can do to protect it.
That seems like a big task, and it is. But the good news is there are many local people, just like you, working together to protect the water quality and they may not even know it!
Last week, I met with Domini Bryant of Urban Harvest in Houston to tell her how important their community gardens are to the health of the Bay and talk about how we can help each other more. Urban Harvest is a non-profit that has been teaching people in Houston how to grow their own food for 26 years. They offer over 50 classes a year and support over 135 gardens in neighborhoods and schools. Many of them are in food deserts, where there are no grocery stores nearby, and 25 of them provide nutritious produce to places like shelters and food pantries. They even have wheelchair-accessible garden beds. This project has been an incredible win for the community!
What she didn't realize is that it's also a win for the Bay. By growing produce without pesticides and large amounts of fertilizers, all Urban Harvest's gardens are Bay-friendly!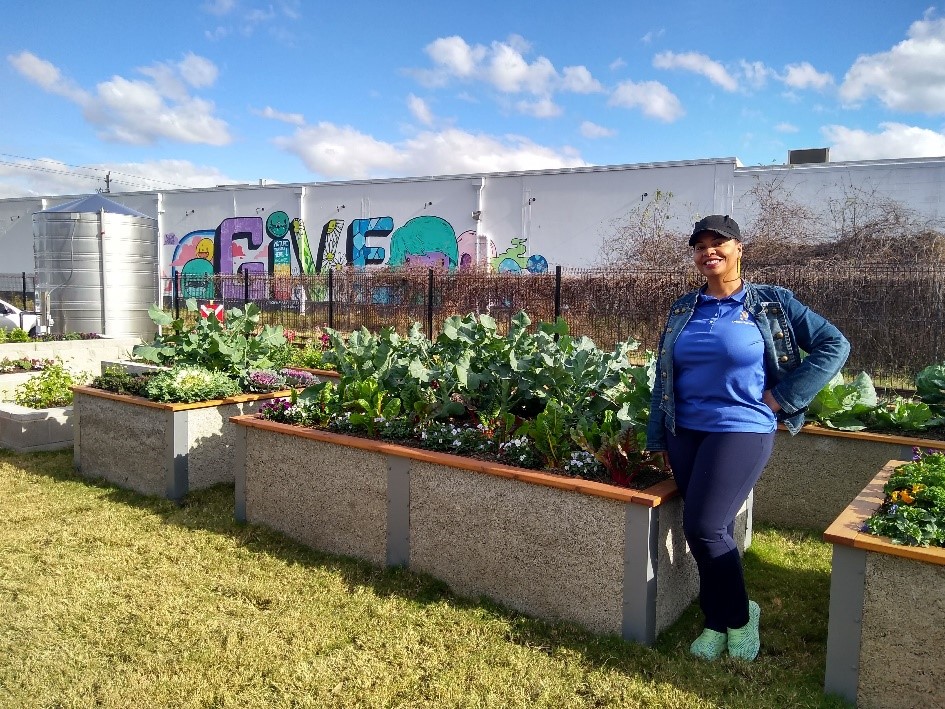 Domini Bryant, Director of Community Engagement for Urban Harvest

When it rains, anything that water touches can end up in the Bay. Harsh chemicals used in pesticides are toxic to fish and shellfish species, causing die-offs and increased danger for human consumption. About 1/3 of Texas' annual commercial seafood harvest comes from the Bay. And it supports 1/3 of recreational fishing in Texas too. Many people rely on seafood from Galveston Bay to feed their families.

Manufactured fertilizers high in nitrogen and phosphorus destroy the balance of nutrients in the water. This makes it difficult for fish, shellfish, and oysters to thrive. Soil also needs a fine balance of nutrients, so utilizing more natural compost and mulch makes it much easier for your garden to thrive too! Pesticides and chemical fertilizers may help fix a problem temporarily but do long term damage to the soil.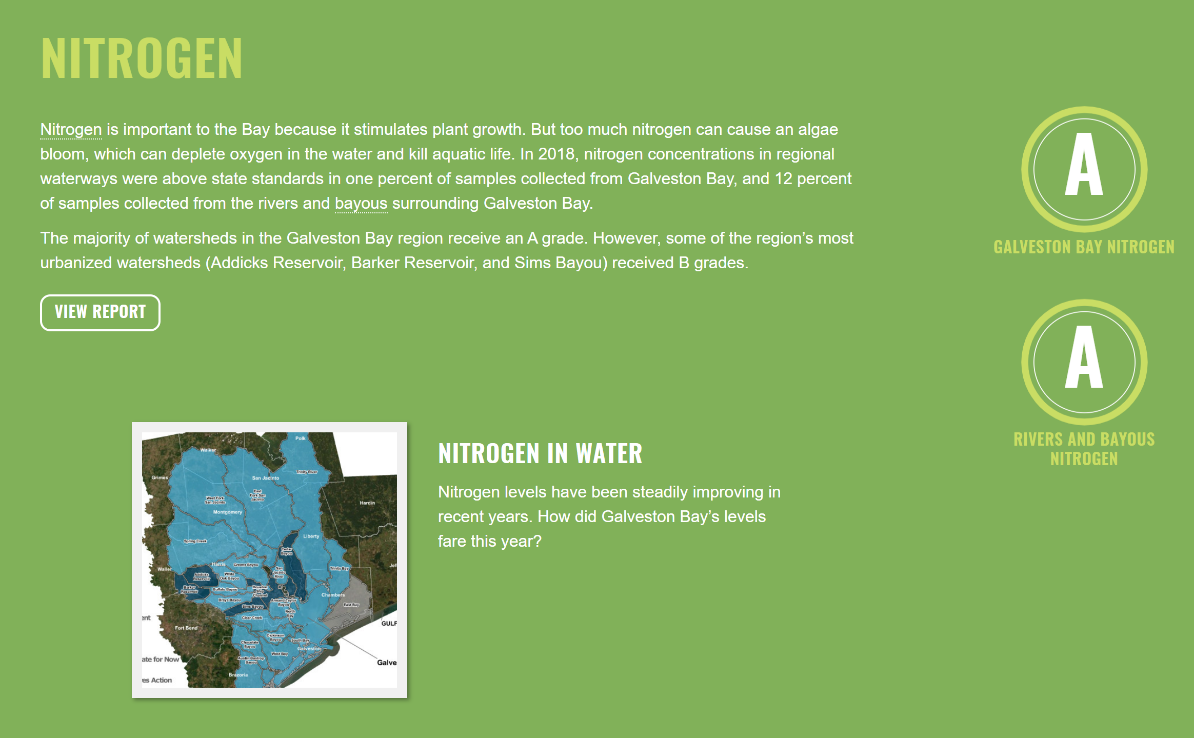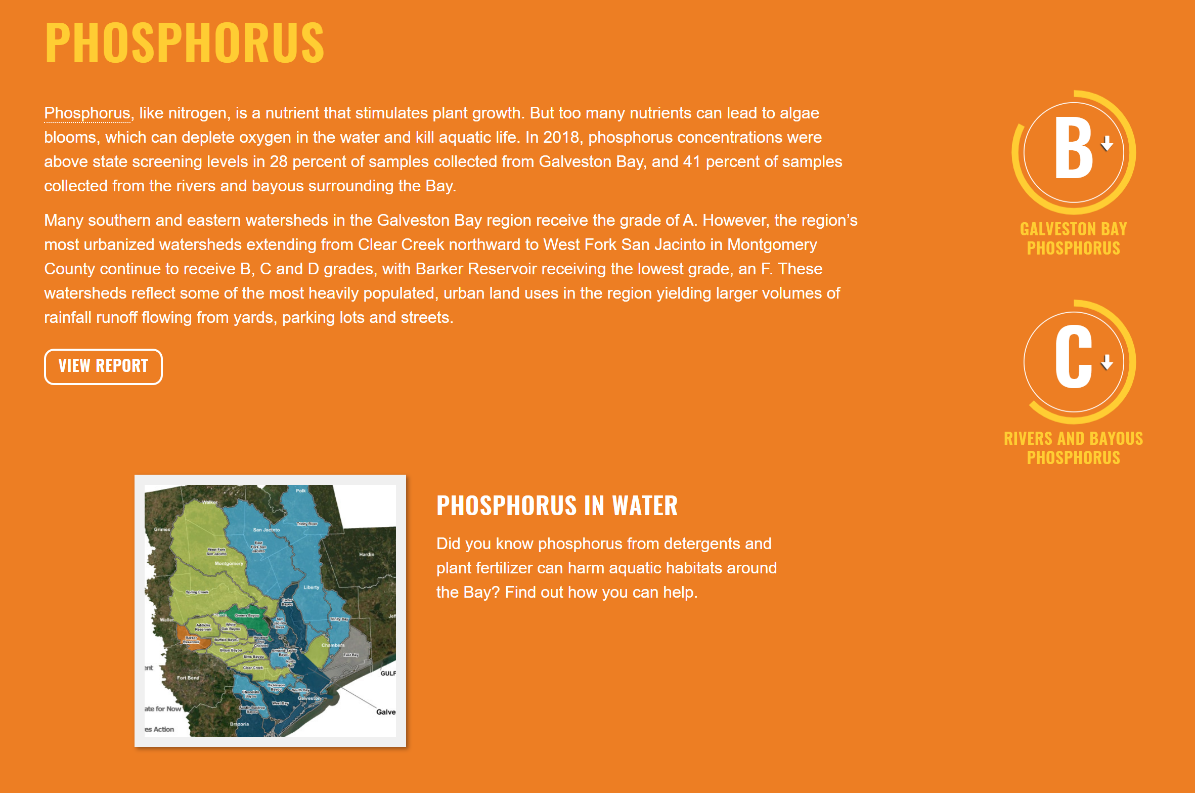 While Urban Harvest helps reduce harmful runoff into the upper portion of the Bay, Seeding Galveston on Galveston Island protects the lower portion. The co-founders, Debbie Berger and John Sessions, are committed to making affordable, organic, and nutritious food available to residents and visitors on the island. John and Debbie are very familiar with the environmental impacts of chemical fertilizers and pesticides and were happy to hear that their insistence on avoiding these helps the Bay. They use vacant lots for their gardens, where their large garden beds filled with soil help absorb rainwater and reduce flooding too.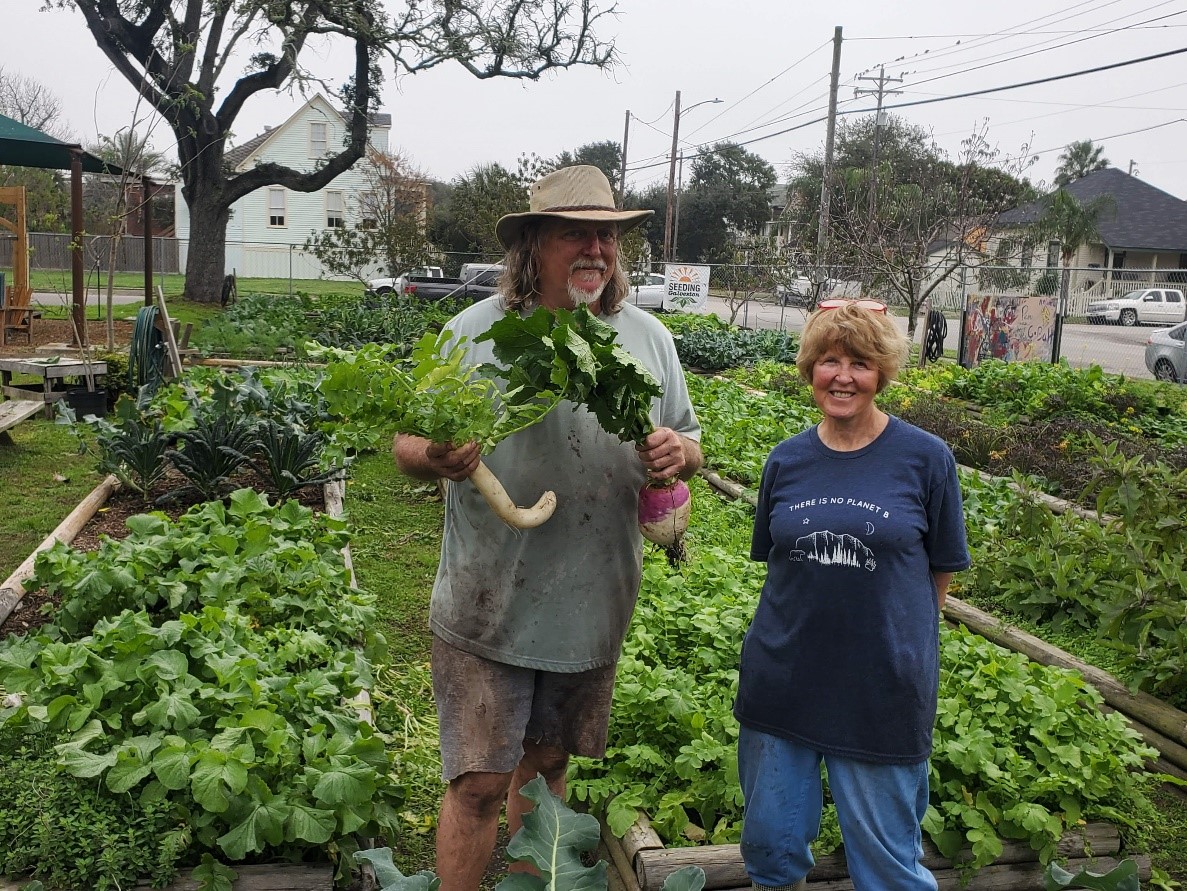 They teach gardening and composting techniques to students, volunteers, and anyone who is interested. Harvest Mornings often become mini lessons for locals who ask questions as they walk with John or Debbie to pick the produce they'd like to buy fresh from the ground. This past week, I overheard John say to a curious visitor "oh no, you're not a bother at all. Our job is to foster people's interest in this. Talking to you is more important than selling a vegetable." Not long ago, Seeding Galveston began their amazing "100 Kitchen Gardens" project. Over the course of 2 years, they will be providing all the supplies for a produce garden to residents in need and help build it where they live. They will work with each recipient to help them grow successfully and learn to cook through community dinners. Galveston Bay Foundation outreach staff will be joining in some of these dinners to talk about how beneficial responsible farming is for the environment.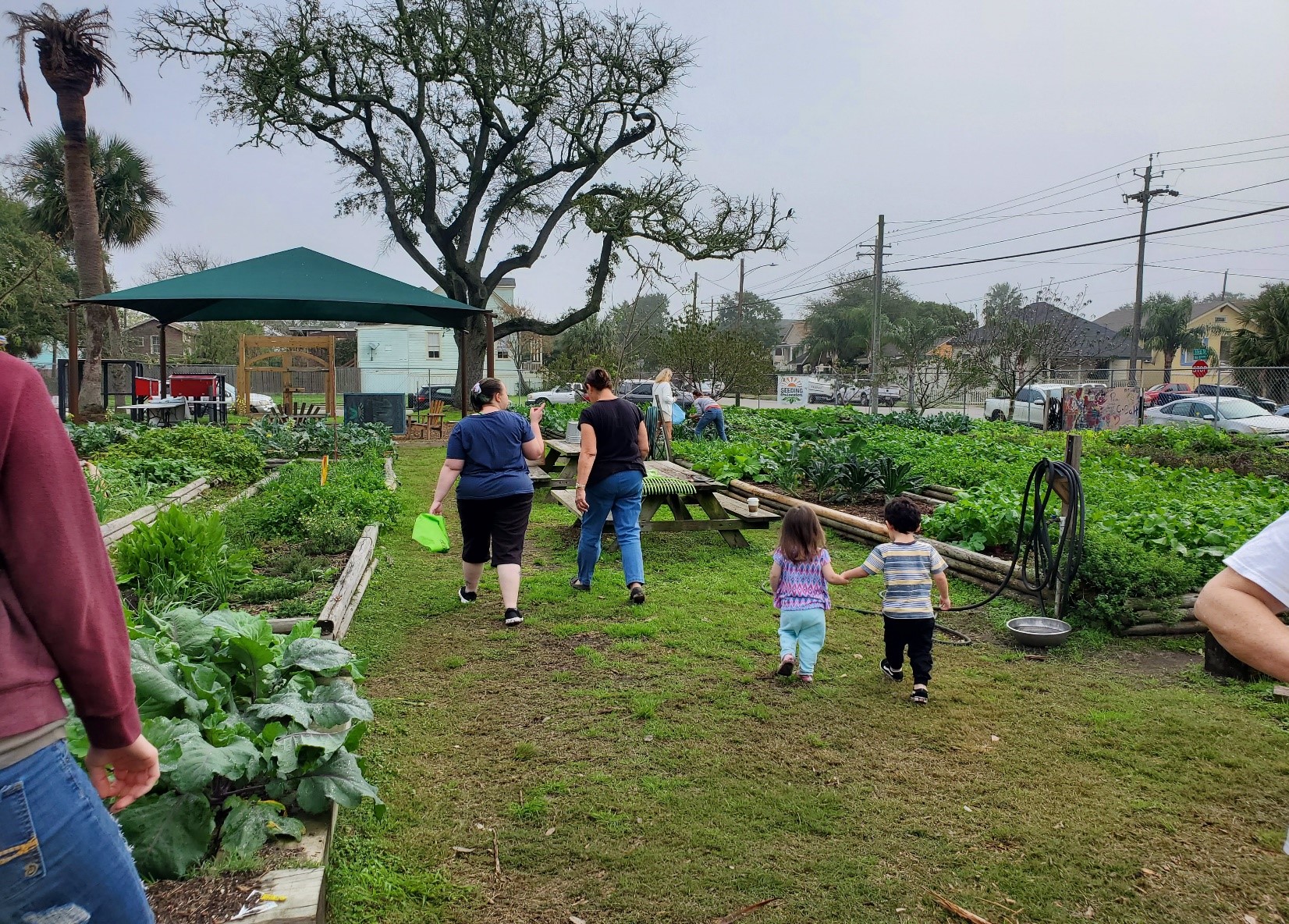 Galveston Bay is such an amazing resource for our area. Between fishing, ecotourism, and shipping, it's easy to see that many people in our area rely on the Bay for their livelihood. There are so many reasons to keep it healthy. We want to ensure it's safe for fishing and recreation, so we can continue to enjoy it generation after generation. Our beautiful, native wildlife species depend on it to survive and thrive. Its marshes and oyster reefs help reduce flooding, erosion, and bacteria levels.
Spoonbill photo by Andrew Hancock
Think about why you love or appreciate our Bay!
Visit Urban Harvest, Seeding Galveston, or a farmer's market near you to help protect its waters with responsible gardening and farming.
To find an Urban Harvest farmer's market or affiliate garden, visit https://www.urbanharvest.org/
For Seeding Galveston harvest morning or 100 Kitchen Garden information, visit https://www.seedinggalveston.com/
To learn more about how soil, compost, and mulch work, read this great article from HARC: https://www.harcresearch.org/feature/Its_all_about_the_SOIL