Austen Anderson is 27 years old and grew up in Deer Park, TX. While his ill father worked tirelessly in industrial facilities, Austen developed a passion to protect the environment around them. He learned about many environmental issues while earning his Bachelor's degree in Marine Biology at Texas A&M University in Galveston. He became more connected to our local waters through surfing and living in Galveston. He graduated in 2016 and decided to start a project to tackle one of the biggest problems on the planet – trash. "I always wanted to create something bigger than me," says Austen.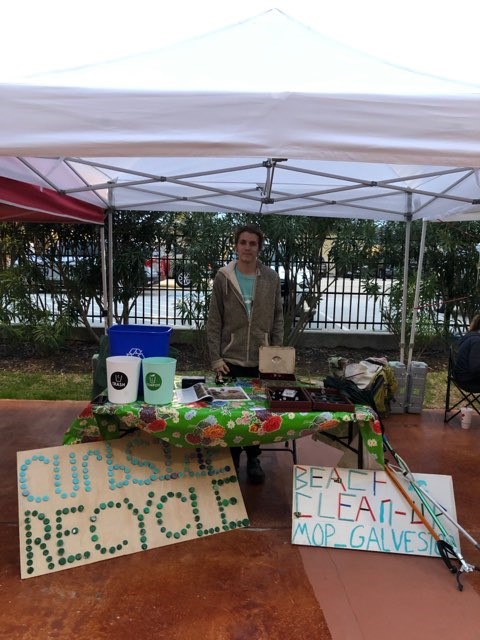 With his foundation, Mountain Ocean Project, he aims to end ocean pollution but knows that a goal that big takes many small steps from many directions. That is why he cleans the shorelines of Galveston every weekend. Yes, every weekend. Sometimes daily. He invites and encourages anyone to join in, through posts across community groups on social media, meet-ups twice a week, and booths at places like Galveston's Own Farmer's Market and local businesses. Taking after his father, Austen works tirelessly. Anytime you see him, he's either picking up trash, collecting recycling with his curbside service, or talking with people about how they can help.


In addition to his weekly shoreline clean-ups, Austen is developing a Capstone Project with Texas A&M Galveston to build trash-excluder devices for storm drains. These would reduce flooding and the amount of pollution that ends up in the Bay and Gulf of Mexico. When Galveston Bay Foundation's Community Engagement Coordinator heard about all of these efforts and ideas, she met with Austen to offer outreach resources and connections. After all, to get a clean ocean, we must have clean rivers, bayous, and bays. It's all connected and starts in every backyard from Dallas to Galveston.
| | |
| --- | --- |
| | |

To get the community involved in these efforts, a fun collaborative event will be held on Saturday, March 7th from 3-8pm at Devil and the Deep Brewery in Galveston. "Sounds For Ocean" will include an eco-crafts table, raffle and auction, craft beer, live music, and talks from local conservation groups like Galveston Bay Foundation. It is free, family-friendly, and all proceeds will go toward Mountain Ocean Project's clean-up and storm drain projects. And, in true Austen fashion, there will be shoreline clean-up following the event. On March 8th, 10am free yoga starts off the clean-up and documentary filming on Pelican Island. For more information, visit https://mountainoceanproject.org/sounds-for-ocean/ or email mountainoceanproject@gmail.com