In 2018 the Houston Zoo joined forced with Houston Audubon to learn more about what Houstonians are doing to help native and migratory bird species at home. They pinpointed the top behaviors that individuals can take to have the largest influence on creating natural spaces to provide suitable habitat and resources for birds in the Houston area. Every green space counts: from large city parks to pocket prairies to our own yards at home. Together, these pieces can add up to important habitat for birds and other urban wildlife, but all too often we see our city covered in non-native plants and sterile lawns, with widespread use of pesticides and other harmful chemicals. The key to changing these undesired behaviors is to understand why they are occurring in the first place.
To get to the root of "why" the Houston Audubon and the Houston Zoo teamed up to create the Bird-Friendly Eco-Team, a group of 17 Zoo employees from 12 different departments who committed to taking bird-friendly actions at home for the duration of one year. We met monthly from March to August 2018 in an effort to uncover the benefits and barriers that were most significant to the group as they pertained to carrying out four bird-friendly behaviors:
1. Plant and maintain native plants for birds
2. Install and maintain a water feature
3. Install and maintain a nest box
4. Install and maintain a feeder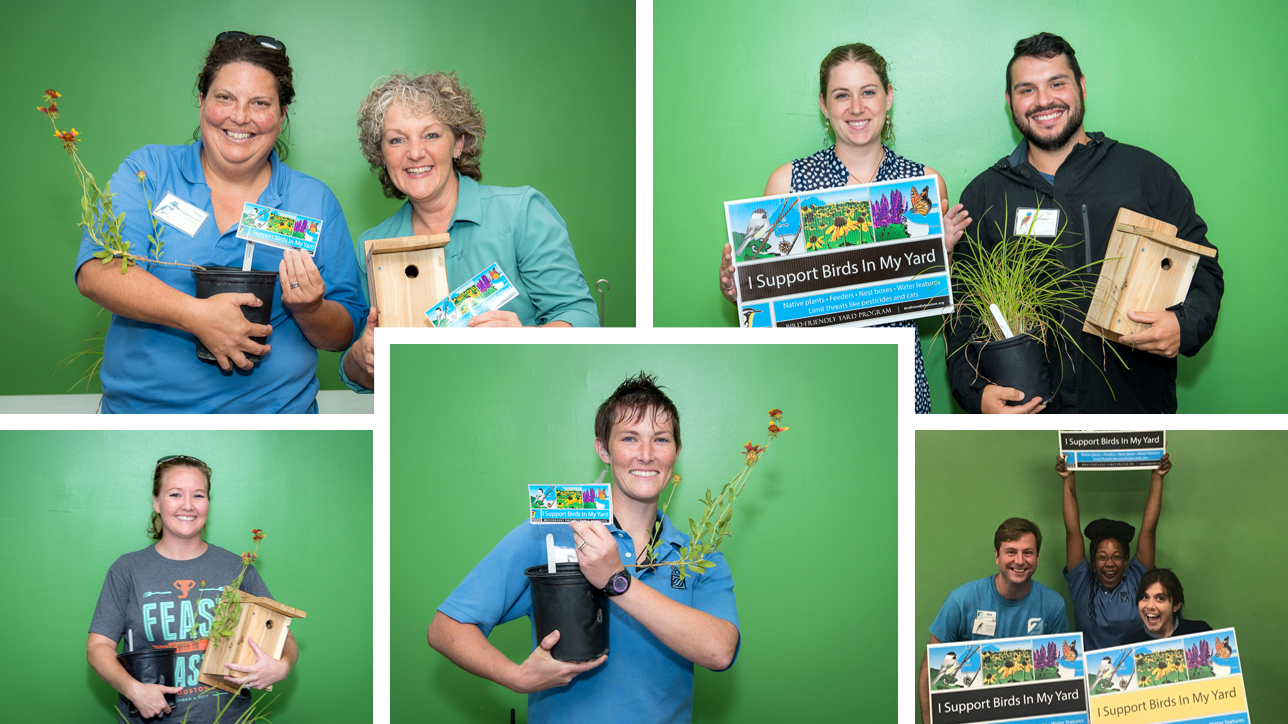 These sessions were inspired by a model called Community-Based Social Marketing—the Eco-Team acted as a focus group that we could learn from allowing us to adjust and create programming to realistically meet the needs of a greater number of Houstonians. Common barriers included TIME to plan and plant, financial RESOURCES to make purchases, and lack of KNOWLEDGE about which plants are truly native and supportive of wildlife. Benefits that motivated the Eco-Team included the satisfaction of supporting migrating birds and the ability to connect family members to nature at home. We also conducted feedback sessions on Houston Audubon's existing resources and materials, and we toured the Zoo to uncover ways the property itself can become even more supportive of local wildlife.
From September 2018 to March 2019, participating staff were asked to continue to carry out the above commitments and use a Facebook group established for the team as the main form of communication with other members in lieu of in-person monthly meetings. The group continued to make notes on barriers and benefits encountered and made note of any techniques they found most useful in terms of keeping them both engaged and accountable.
The barrier and benefit research collected by the team was used to inform the structure and tools used for broad scale implementation with Zoo guests. We have tested the bird-friendly yard campaign at three Zoo events so far this year and look forward to doing more trial runs at events in the Fall.
Each participating Zoo staff member volunteered countless hours of their own time to make this project a success and have helped the Zoo and our partners at Houston Audubon uncover ways to strengthen wildlife-saving messaging and programming, helping to ensure long-term success. Native planting through this program also supports one of the Zoo's main take-action messages – Pollinator Awareness. In total, the team successfully:
• Planted a minimum of 95 native plants
• Installed and maintained 10 water features
• Installed and maintained 14 bird feeders
• Installed and maintained 10 nest boxes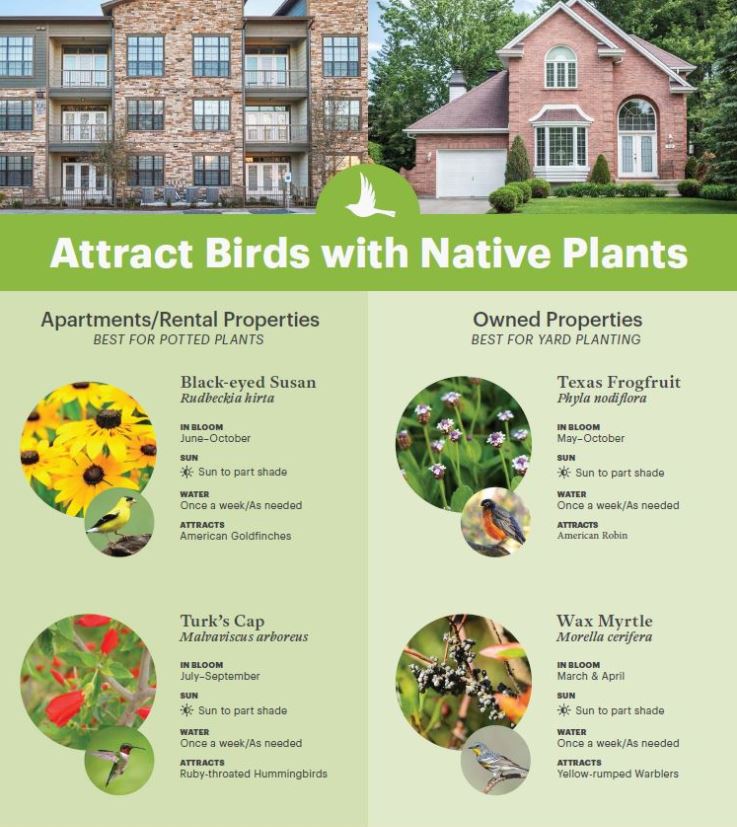 Now that the project has been introduced to the public, each of these staff members will continue to remain involved, acting as a resource and providing support to any Zoo guests that pledge to carry out bird-friendly behaviors. To find out more about Bird Friendly Communities, visit http://www.birdfriendlyhouston.org/.