Protecting Galveston Bay from Ghost Fishing
Every year, thousands of animals die as a result of ghost fishing. Ghost fishing occurs when animals are caught in lost or abandoned traps and fishing gear. Abandoned, lost or derelict crab traps are one example of how ghost fishing can occur, and these traps have been identified as a significant source of mortality for various aquatic organisms, including Diamondback Terrapins. These traps can also potentially impact important habitats such as seagrass. Additionally, abandoned crab traps can create navigation hazards for boaters whose motors may become damaged due to contact with them, leading to expensive repairs and wasted time.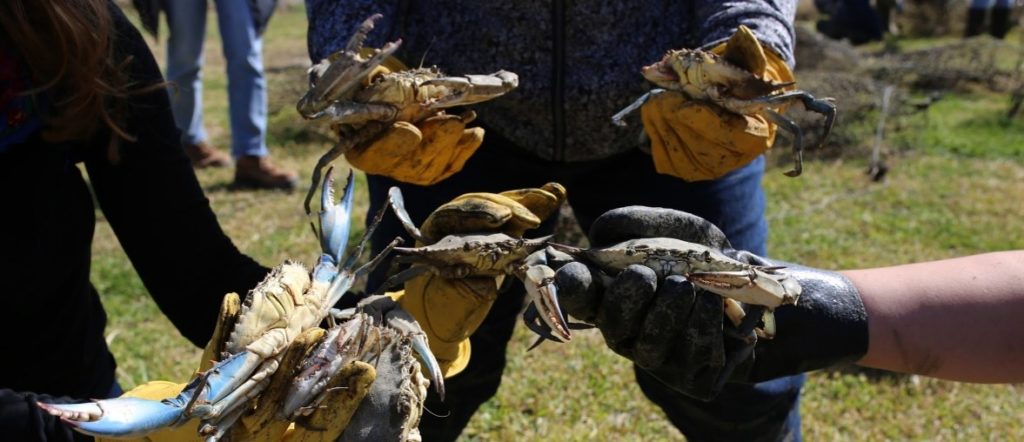 In the state of Texas, there is a yearly program that was created by Senate Bill 1410 to address the issue of abandoned crab traps. Senate Bill 1410 granted Texas Parks and Wildlife (TPWD) the authority to create a yearly closure period, where all crab traps in the water during the closure period are considered litter and may be collected and disposed of by the public.
Starting on the third Friday in February, the annual 10-day crab trap closure period will begin. The closure period will be from February 17 to February 26, 2023, and the annual Abandoned Crab Trap Removal volunteer event will be taking place on Saturday, February 18, 2023. Across the state of Texas, volunteers can assist in this coast-wide effort to remove these abandoned traps. Since 2002, over 40,000 abandoned traps have been collected and removed from Texas waters with the help of dedicated volunteers. To learn more about crab trap removal, please watch this short video.
For information about Galveston Bay Foundation's 2023 Abandoned Crab Trap Removal event, please contact lscobel@galvbay.org. Galveston Bay Foundation is actively recruiting boaters to help with this year's event.