On August 12, 2015, the Galveston Bay Foundation and HARC announced the premier of the Galveston Bay Report Card, a citizen-driven scientific analysis of the health of Galveston Bay.
The goals of the Galveston Bay Report Card are to
Promote conservation of Galveston Bay's natural resources
Increase public awareness and participation in management strategies
Provide the public with basic measures to assess Bay health
What makes the Galveston Bay Report Card different? We started with YOU!
We went to the civic and stakeholder groups, sent out public surveys, and met with residents to ask YOU what issues are of most concern and what you want to know about Galveston Bay.
A few issues of highest concern noted by people that we spoke to include:
Spills and Litter
Habitat Conservation
Seafood Safety
You can find grades for these indicators and others in the Report Card.
How does the Galveston Bay Report Card work?
The Galveston Bay Report Card is the first easy-to-understand grading system to communicate the health of the Bay to the public. HARC researchers look at existing data and evaluation conditions that impact the Bay's resilience and sustainability, starting with the issues that matter most to people living around the Galveston Bay region.
Based on public outreach and availably data, we developed 18 indicators of Galveston Bay health in six categories:
Water Quality
Habitat
Wildlife
Pollution Events & Sources
Coastal Change
Human Health Risks
Each indicator received its own grade, based on the most recent available data. Each category then received an average of those indicator grades. (grade explanations; summary table with category grades)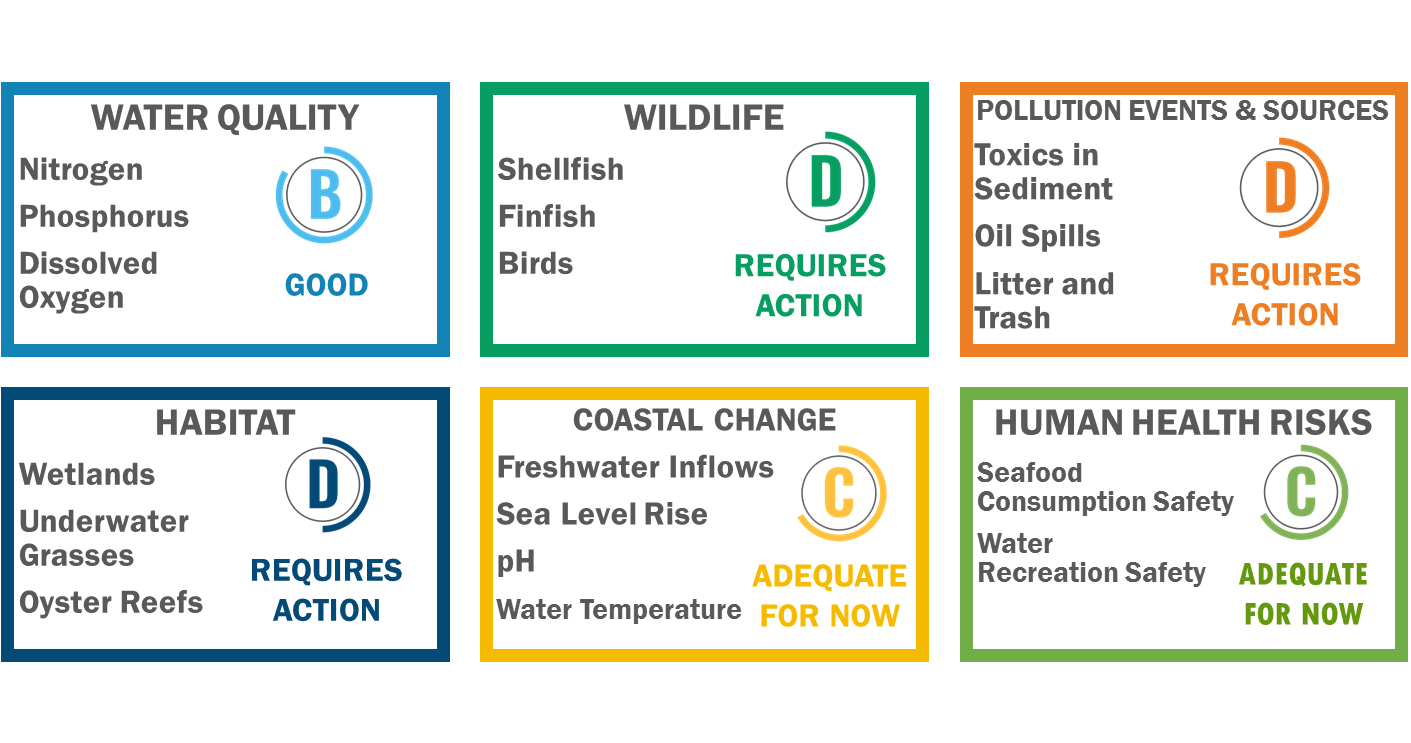 How did Galveston Bay do overall?
For the second year in a row, Galveston Bay earned an overall grade of C, meaning "Adequate for Now." This means that the bay is still faring pretty well considering the significant challenges that it is facing such as freshwater wetland and oyster reef declines, pollution, and the impacts of coastal change.
 How can I see the grades?
Visit the 2015 Galveston Bay Report Card website to explore all of the grades.
What can I do to help Galveston Bay?
Every indicator has a list of What You Can Do strategies – individual actions that can make a huge impact on Galveston Bay. If you find interesting information in the Galveston Bay Report Card, share it with your friends and colleagues via the social media tabs. With your help, we hope that we can one day achieve a Straight-A Bay.